Submitting of Points
Points from PHAA approved shows do not need to be submitted as they will be automatically included when results are submitted by the Show organisers.
Points from all other shows must be submitted by the competitor within 30 days of the event, to the PHAA office on the official form (from a PHAA points recording book). Not all classes are eligible for points so check out the PHAA Rule book for points eligible events.

In order to be awarded the full amount of points you are entitled to, it is important that you complete your Official Show Results Form ("Points Book") correctly.
The most common recording errors are:
In the recording of the number of horses that have competed in halter classes when claiming points for Champion, Reserve Champion or Grand Champion.
Incorrectly recording the name of the event
Including more than one division on the one sheet - such as youth events on the same sheet as open events.
Missing Information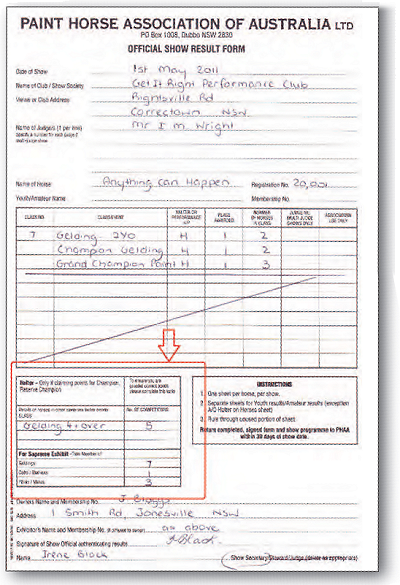 Halter Events
When claiming points for Champion, Reserve Champion or Grand Champion it is imperative that you complete the box on the bottom left hand side of your points sheet. It really isn't as hard as it sounds, have a look at the example.
This horse won his class of 2, that is 1 point, he then went on to get Champion Gelding beating 5 older geldings. As the horse he beat was awarded 2 points for 1st of 5, our horse needs to be given an additional 2 points for Champion - giving him a total of 3 points - 1 more point than any horse he beat. Had the bottom box not been completed he wouldn't have been awarded any extra points as it would appear that there were no additional horses shown in the gelding class.
Likewise for his win in the Grand Champion, to gain points for this win, there must be at least 4 horses shown in the Paint Horse Halter events and at least one of another sex. Had the box not have been completed, it would be assumed that there was only a total of 3 horses shown, and therefore no additional points would have been awarded. So you can now see how our horse would have been short-changed 3 points.
Name of Event
Be careful that you record the event name exactly as it is shown on the show program, and if the classes are numbered include the class number in the column on the left of the form.
Youth, Amateur and Open
You should complete new sheets for your Youth results, your Amateur results and your "Horse" or Open results. So in effect, you could have 3 sheets for the same horse at one show if he competes in youth, amateur and open classes. The only exception to this is Halter classes, whether the class is a Paint Halter, Amateur Paint Halter or Youth Paint Halter class it will go on the horses sheet.
Missing Information
You may be surprised how many people forget to put horses registration numbers, membership numbers or do not have the sheet signed by the Show Secretary. Always, rule off the unused lines before asking for a signature. Last of all make sure you attach a copy of the show program with your points sheet when mailing it to the PHAA Office.
By following all of these steps you will get the points that you deserve, help in having paperwork turned around promptly and at the same time avoid being charge paperwork penalty fees. Best of all, encourage your club to have their shows "PHAA Approved" and then the Show Secretary has the job of sending all of the results to the PHAA on your behalf.
---
Points recording books can be obtained from the PHAA office for a fee of $30 (including postage).
Want to know what your current points? Check out our Online Show Points Search facility which will allow you to search for lifetime points for any horse registered with the PHAA. 
Calculations of Points
| | | | | | | | | | | |
| --- | --- | --- | --- | --- | --- | --- | --- | --- | --- | --- |
| Class | 1st | 2nd | 3rd | 4th | 5th | 6th | 7th | 8th | 9th | 10th |
| 1 | 0.5 | | | | | | | | | |
| 2-4 | 1 | 0.5 | | | | | | | | |
| 5-8 | 2 | 1 | 0.5 | | | | | | | |
| 9-11 | 3 | 2 | 1 | 0.5 | | | | | | |
| 12-14 | 4 | 3 | 2 | 1 | 0.5 | | | | | |
| 15-17 | 5 | 4 | 3 | 2 | 1 | 0.5 | | | | |
| 18-30 | 6 | 5 | 4 | 3 | 2 | 1 | 0.5 | | | |
| 31-45 | 7 | 6 | 5 | 4 | 3 | 2 | 1 | 0.5 | | |
| 46-65 | 8 | 7 | 6 | 5 | 4 | 3 | 2 | 1 | 0.5 | |
| 66-90 | 9 | 8 | 7 | 6 | 5 | 4 | 3 | 2 | 1 | 0.5 |
| 91+ | 10 | 9 | 8 | 7 | 6 | 5 | 4 | 3 | 2 | 1 |
Champion and Reserve Champion Halter Only
Champion points are calculated in accordance with Rule 233 (refer PHAA rule book)